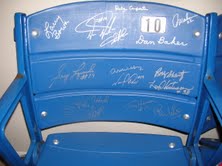 The world's biggest self-addressed, stamped envelope won't help collector Gregg Kersey.
Photos. Cards. Even a padded envelope for a baseball? No problem.
How about return mail for a pair of seats from Veterans Stadium?
I'm imagining a TV reality show. Gregg tracks down former Phillies, trekking with his seats, then explaining how to autograph ballpark furniture. The co-stars are in place. Gregg credits his dad and girlfriend Brina in helping snag signers for the seats.
This creative collector has found that he needs to find other ways to reach former Phils. When he found one part-timer from the past, Gregg got an impressive surprise. As he tells it:
"I had recently written to former 80's Phillie, Met, Yankee and Oriole Keith Hughes. while definitely not a household name, I was looking to get some cards signed and wrote him a letter. I also wrote in that letter I have been trying to get my seat from Vet Stadium signed by former Phillies and hoped to meet him one day to sign it.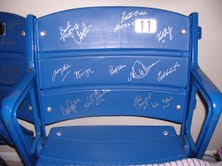 He lives about 45 minutes from me and about a week passed and my cards came back with a letter that said he would be glad to sign the seat for me and gave me his phone number etc, so we set up to meet today.
Honestly I must say it was a great experience for me. He was very nice and we talked in the parking lot where we met up for about a half hour just about baseball and life after baseball and families. I realize
he was never a star player, but he did live the dream for a few years that most guys would trade everything they have for just one day of it.
It's nice to know that these guys are still out there and care enough for the fans who appreciate them to take the time to acknowledge them as well."
Likewise, it's nice to know that there's collectors like Gregg out there. He's collecting HIS WAY, making the hobby his own. In the process, he's collecting memories you'll never find in a price guide.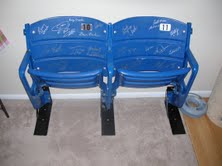 Autographs on seat 10 include —
Larry Bowa (Phils SS & manager)
Darren Daulton (Phils Catcher 80/90's)
Ruly Carpenter(Phils President 80 W.S. Team)
Dickie Noles (Phils Pitcher 80 W.S. Team)
Dan Baker (Phils P.A. announcer since 1972)
Greg Luzinski (Phils OF)
Art Mahaffey (Phila Pitcher)
Tommy Green (Phils Pitcher)
Bobby Shantz (Phils Pitcher)
Larry Christensen (Phills Pitcher 80 W.S. Team)
Gary Matthews Sr (Phills OF & Current Announcer)
Curt Simmons (Phils Pitcher)
Terry Harmon (Phils Infielder 70's)
Ruben Amaro Jr (Phils OF 90's & Current GM)
Bill White (Phils 1B & Commisioner)
Seat 11 autographs include —
Keith Hughes
Bill Conlin (Phils Beat Writer in the 70's just inducted into BB HOF)
Dave Montgomery (Phils President)
Juan Samuel (Phils 2B/Current Coach)
Eric Valent (Phils in the early 2000's)
Merrill Reese (Eagles anouncer for last approx 35 years)
Bobby Wine (Phils Player/Coach)
Joe Kerrigan (Phils coach 2002-03)
Larry Shenk (Phils VP last approx 35 years)
Ricky Jordan (Phils 1B 90's)
Harry Gamble (Eagles GM 80's)
Harold Carmichael (Eagles WR 70's)
Mike Rogodzinski (Phils OF 70s)
Coming Monday: The nicest "wrong address" return I've ever gotten.