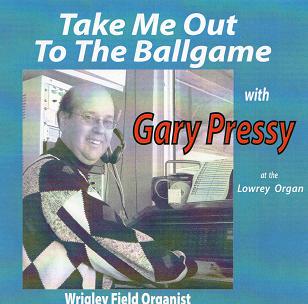 This CD is out of print, Pressy noted.
He's had TWO volumes in the past.
Let's hope he records again!
Gary Pressy might be the Charlie Brown of team organists.
Legend has it that he lobbied the team for eight years before he landed the gig.
In 2010, Cub players asked for pre-recorded song clips instead of Pressy's organ for "entrance (at-bat) music." Thankfully, fans rallied to his aid, circulating online petitions.
For 2,000 games, he's waited to be part of a World Series.
Now, I misspelled his name! I'm sorry.
"Tom:

Thank you for the kind words. The only thing is my name is spelled PRESSY."
I wanted to know about musical Cubs. He replied:
"I have not spoken to Darwin (Barney) about his piano playing. But I do remember Carmen Fanzone playing the Anthem before a Cubs game in the 1970s."
Wayne Messmer sang the National Anthem at the only Wrigley Field game I attended. I've loved his renditions on the radio, too. Pressy's thoughts?
"I agree Wayne is the best. He and I are like brothers and grew up 4 blocks from each other. (What a small world.) Patrick Blackwell is an excellent singer and his rendition of God Bless America is great.

It's sad, but most Anthem singers do not use the organ to accompany them. I wish they would sing it like it's written, but they don't."
Pressy accompanies for Take Me Out to the Ballgame. He saw Harry Caray croon for crowds many times. What's his favorite Caray memory?
"Harry was a Pied Piper. People in their 80s and people that are 5 years old would follow him down the ramp after the game. He was such a symbol at Wrigley Field. He took a lot of pride in singing the song."
Pressy forgave me for my spelling, it seems. He closed a kind letter with a hopeful wish:
"Once again, thank you for your interest, and here's hoping the Cubs will play well into October next year.


Sincerely,
Gary Pressy"
Let's hope that Pressy is there at the keyboard for each of those dream games!
Don't forget to see Pressy's Q&A with the Chicago Tribune this season!
Coming Friday: Learn how Phillies fan Gregg Kersey turned an old ballpark seat into an autograph adventure.