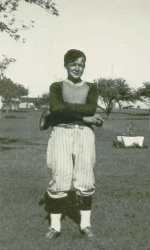 In the heat of presidential primary season, a vote may have been cast for tradition.
I've enjoyed the epic story of Tigers minor leaguer Bobby Hoeft. His book and his Detroit Tigers quarterly newsletter would delight any fan.
One off-hand comment of his caught my eye. Bobby keeps creating "hard" copies of his newsletter, not just posting news online. I realize that he has dozens of former Tigers as subscribers. He mentioned that most aren't computer users.
"Oh yes — regarding seniors with no computers…I speak for myself when I say it took me up to 2007 before I took them on…To some extent, just give a retired baseball star another pain in the ass…I admit it was only because of my intense typing etc that I was talked into it…but guys like Virgil Trucks, J.W. Porter, Frank Tanana and on and on view it with, "At my age why take on this new technology…I'm happy with my life just the way it is."
Bobby's comment sent me thinking. Kohei Nirengi mentioned about Japanese tradition favoring hand-written letters. I maintain that forcing any age person to study my handwriting is cruel and unusual punishment.
Nonetheless, are some elderly ex-players frowning at our computer printout letters, skeptical at how little personal effort went into the correspondence? Do these cyber-shy folk think our magic boxes have cranked out well-disguised, robotic form letters?
When possible, I add a hand-written P.S. That way, the potential signer knows I've tried…and that I've spared him the pain of a whole page of my scribbles!
Coming Thursday: Tom's "10 Most Wanted List" — a Hot Stove League edition!