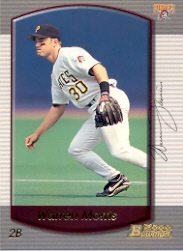 Love the pic!
Love his hustle.
After 1999, I saw
stardom for Warren. Hmmm…
Getting autographs of superstars by mail is tough.
I believe that another tough category exists: the might-have-been.
Injury is often the explanation for a shortened career. Managerial conflict is another. If the boss doesn't believe in you, who do you get in the lineup? Or, these men simply became overshadowed in a rich farm system serving a perennial winner in the majors.
You can look these guys up. They had brief glories in the bigs, never getting the chance to extend one or two good seasons into a great career. Getting fan mail must be a bittersweet experience — glad to be remembered, but sad to be reminded of what could have been. Are the memories too painful to reply to a letter? (Some names got disqualified immediately, due to their HORRIBLE unwillingness to sign for members of http://www.sportscollectors.net/, as indicated by attempts posted and monitored by SCN members.
I've found two "shooting stars," the first with one season of wonder, the second with just a game of glory.
Warren Morris
John Paciorek
Readers — who else would you put on this list? Thanks for your help.
Coming Friday: Honoring Bill Monbouqette