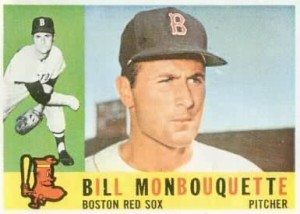 A half-century later, a huge heart exists behind that
intense glare. Learn how "Monbo" took a gift
from the hobby and paid it forward!
One of the joys of being a part of the http://www.sportscollectors.net/ community is witnessing the random acts of kindness from hobbyists.
Michael Einarsson leads that parade. First, he surprised Virgil Trucks. Bill Monbouquette came next. All with lots of help from like-minded collectors. Here's Michael's story:
Q: How long have you been collecting autographs? Do you have a specialty (teams, era, etc.)? How much of your collecting is TTM, versus in person?
A: I have been collecting autographs for about 20 years (since I was 10 yrs old). I believe that Mickey Morandini was my first TTM success right after he turned his unassisted triple play in 1992 vs the Pirates.
My only real specialty at this point is I am trying to complete an autographed set of 2008 UD Masterpieces. Not too bad so far, as I have 84 out of a possible 115 autographs in the set (5 deceased players were included in the set).
I do almost all of my collecting via TTM as I do not live near a MLB city. I do however live close to Cooperstown and only last year did I get involved in HOF weekend. Maybe this year I will get more involved in it-we'll see. I get a lot of my Masterpieces set needs done through consignments with guys on the SCN boards or through private signings.
Q: Was the collection for Virgil Trucks the first you did? What kind of responses did
you get from collectors, and Virgil?
A: Yes, the collection for Virgil Trucks was the first one I did. I got the idea from reading about how some guys on SportsGraphing had done a collection for Bobby Doerr and I said to myself "Why can't we on SCN do this?" Thus, it was born.
I got a lot of positive feedback from collectors who donated anything from just a few dollars to one donation of over $150! I told potential donors that I will even take the change they have leftover in their Paypal account that they might never use and take that as a donation-it all adds up. All together I had 24 people donate to Virgil as a 'Thank You' for all he has done as a TTM HOF'er and a Veteran who fought for our country.
Virgil was VERY gracious as he gave me a phone call (I include my phone number and email in my donation letters) when he got the check to tell me how thankful he was for it. We spoke for about 10 minutes about playing in his era and how he knew some of the towns around where I live. He used to do some barnstorming because they made so little money back then, that he had to do barnstorming to make ends meet at home.
He sent me a very nice 'Thank You' card and 20+ signed cards for me to give out to those who donated to him. I contacted everyone who donated and asked them if they wanted the signed card from him. I'd say about half of them accepted it. The rest were just happy to donate to Virgil and didn't need anything in return.
Q: What kind of replies TTM had you received from Bill before you honored him?
A: I honestly have never written to Bill before we honored him. I certainly should have as I could use him on a Fenway Park photo I have, but I just haven't gotten around to it.
Q: What do you say to a collector who says, "I'd rather send a thank you note, instead of bringing money into the equation?"
A: I would be more than happy to honor someone's wishes anyway they want. If they want to send a thank you note, that is fine by me. All I am trying to convey to guys like Trucks or Monbouquette is a 'Thank You' and I have decided to do it via a monetary donation. These players never ask for anything in return so in my opinion, if we can collect a sum of money to give back to them for their decades of answering their fanmail, I think it's a good way to show our appreciation.
Q: When's the next campaign start? What critierion are you using to choose another retiree? Who are some of the names in consideration?
A: I think I am going to get the next campaign started in Spring 2012. I am careful that I don't want to go back to the proverbial "well" too often with the collectors I am in contact with on SCN. We did the Virgil Trucks one around July 4th 2011, and then Bill Monbouquette just before Christmas so I think I will put the call out around April 2012 for the next recipient to anticipate sending him a check around June 2012. I know collector's money is tight so I don't want to constantly be out there asking for donations from my fellow collectors.
The criterion I look for is someone who is a TTM Hall of Famer and who doesn't seem to do paid appearances too often. Basically I'm looking for a player who responds to nearly all of his fan mail in a timely manner and asks for nothing in return. Trucks and Monbouquette are all prime examples of who I like to organize donations for.
Some names that have been kicked around for the next donation campaign have been Bobby Doerr, Carl Erskine, Dick Groat or George Altman. Nothing has been decided though yet."
Anyone wanting to assist Michael in his next hobby thank-you campaign for a signer (or to thank HIM for being such a great hobby ambassador), write him at einars90@hotmail.com.
************************
Bill Monbouquette keeps dazzling collectors. When presented with an $80 check from Michael and his cohorts, Bill added $20 and donated it all to Toys for Tots. He told of honoring his U.S. Marine son with the gift. Once a team player, always a team player!