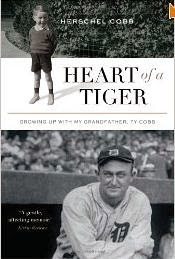 Here's news you can use!
"Spitball Magazine is pleased to announce that the winner of the 2013 CASEY Award for Best Baseball Book of the Year is:
Heart of a Tiger: Growing Up with My Grandfather, Ty Cobb
by Herschel Cobb and ECW Press.
Mr. Cobb will be presented with his CASEY Award, a specially-made blue & gold Louisville Slugger, at the 31st Annual CASEY Awards Banquet from 2-4 p.m. at Crosley's Sports Bar & Eatery, located at 4910 Vine Street, St. Bernard, OH (a suburb of Cincinnati).
For more information, please visit: www.spitballmag.com."
Editor Mike Shannon added:
"The book is also still in the first edition, which is important in the book collecting world and the future re-sell value of a signed copy. Also, … and this is very cool … Mr. Cobb told me today that he will be signing in GREEN INK … just as his famous grandfather did!
I will ask him to inscribe all books with a special "CASEY Awards Banquet, Cincinnati, Ohio,
March 9, 2014
" inscription, in addition to whatever else you ask him to inscribe, such as "To Billy, a great fastball hitter at UK."
I hope you will be present at the Banquet, but even if you can't make it (and I know some of you live too far away to come), I can get a book signed for you and mail it to you afterwards. So … please let me know if you want me to include you … and how many copies … in my order to the publisher.
Cost will the cover price, $25. Plus $3 if I have to mail your copy. Spitball will make a few bucks on each copy we sell, but I hope you don't mind that. Good cause and all that.
And please, forward this email to anybody I left out whom you know will be interested in coming to the Banquet or ordering a signed copy of the book.
My best,
Mike Shannon, Ed.
Spitball: The Literary Baseball Magazine"