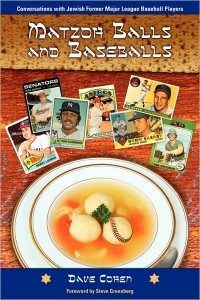 Dave Cohen is an inspiration to all baseball letter-writers. Yes, THAT Dave Cohen. Mister Georgia State University Athletics. The Voice of the Panthers.
While some fans think a letter has to be limited to "what was your greatest thrill" type of query, Cohen spoke from his heart. How did faith and ethnic pride buoy a career? Hard questions, yes. However, the result is an eye-opening book.
I wrote to the author. He shared the highlights of his discovery in his kind, thoughtful reply:
"The premise behind the book was to learn about who some of these Jewish former major leaguer's were and to hear their stories. Most Jewish baseball fans are somewhat familiar with the careers of Hank Greenberg and Sandy Koufax but how many of them know anything about the careers of the other Jewish ballplayers? Who were they and how did they leave their mark on the game? What were their experiences in the game? Since the beginning of Major League Baseball or professional baseball as we know it, among the thousands and thousands that have played, the number is in and around two hundred of those that were Jewish. It's such a small number that, to me, among baseball fans it's a special minority. On one hand there were players like Al Rosen, Steve Stone and Ron Blomberg, who I think understood why I was doing this book and why it is important to recognize their accomplishments.
There were also a couple of players who questioned as to why I, or anyone, would single out players based solely on their religion. I think it just comes down to the ethnic pride within the various communities whether it's the Jewish community or the various Latin-American or Asian-American communities who follow the various players with a shared or common back round or heritage.
For this first publishing I interviewed seventeen former players. Two interviews were done in-person although I had met four of them in-person. The rest of them, except one, were conducted as phone interviews. Although I would have loved to, time and cost prohibited me from traveling around the country to meet them all in person. The only former player who did not want to talk on the phone was Ken Holtzman but he did agree to be interviewed via e-mail so that's what we did. Surprisingly enough he answered most of my questions in complete detail. There were a few questions that he did not want to elaborate on and that's ok too.
There were not really many instances during the course of my interviews where a player was not clear about what I was referring to. I did pre-interview research on each former player and knew much of the time where I was leading the conversation. The nice thing I found with some of these players and their interviews was that those who were lesser-known or who maybe did not have long careers, they seemed to be enthusiastic that someone had taken the time to research their baseball career and was interested in talking to them about it. They were, I think, genuinely please to be recognized and to be included in the book.
I think the best thing to do if you are planning on including a personal question in your request is, again, to do a little research on the individual and maybe come up with something more pertinent to his career. Google is a wonderful tool! As I mentioned, I found some of the former players I interviewed to be open and enthusiastic that someone had taken the time to read up on their career and to show an interest in their accomplishments. Depending upon the player, there may be some who do not want to talk about certain subjects. Either they'll let you know by not answering or you'll hopefully get an informative answer. Should you be talking to the former player in person it might even lead to a longer conversation.
From my conversations with Barry Latman he related to me that he never saw the side of Ty Cobb that Cobb was portrayed to be meaning racist and anti-Semitic. According to Latman, while they did meet in-person on a few occasions, most of their correspondence was done via letter writing. Remember, it was the early to mid- 1950's. I did not get the opportunity to view all the letters. The only one I was able to read was the copy of the one he sent me to include in my book. Having visited Cobb's hometown of Royston, Georgia and having read a little bit about him and his life and career my guess is that he was a product of his environment and the time period. His reputation on the baseball field may not have matched his off the field demeanor quite to the extent that is often portrayed. I don't know that for sure but Latman never witnessed it."
Baseball fans can order Matzoh Balls and Baseballs online at Amazon.com as well as the Barnes & Noble and Borders online sites. They can also visit http://www.havenhurstbooks.com/. Various independent bookstores carry it as well including A Cappella Books in Atlanta, which has autographed copies. Visit online at http://www.acappellabooks.com/ or call them at 404-681-5128 or toll-free at 1-866-681-5128.