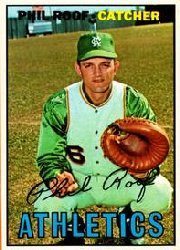 Roof uses same looping script!
Phil Roof caught in the majors from 1961-77. The Kentucky native proved that good catchers win games, but great ones change careers. He wrote:
"I told Sam McDowell on a day I was catching him and told him no one could hit his fastball. He said, 'I can't pitch that way.'
The next start, I caught him and called for all fastballs until he got to two strikes. Game results: 10 innings, no runs, 16 strikeouts. The next start, he K'd 15 in nine innings.
Made a believer out of him."
Tomorrow: Roof shares a lesson in pitch-tipping, noting that a code-breaker can homer with such inside knowledge!