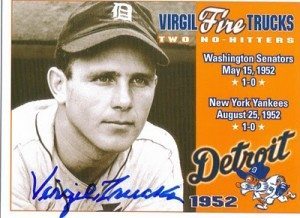 Autograph collecting needs more heroes like Virgil Trucks.
The late pitcher remained grateful to the end. He appreciated fans and hobbyists as much as we adored him.
I wanted to share the thank-you note sent in response…
to MY thank-you note!
I had sent "Fire" a postcard picturing Ty Cobb's glove. On the back, I thanked him for his years of signing autographs, knowing that he had to stop signing once a broken hip required hospitalization.
Here was his surprising unsolicited reply:
"Hi, Tom,
Thanks for your wonderful card. Also for all the nice things you do for Caroline and I. We both appreciate your help and thoughts.
I'm sorry about my short note and writing. I'm writing this in rehab and have several weeks to go. Yes, Caroline is one sweet person and I'm glad she is my precious daughter.
Enclosed is a card for you if you care for it.
Again, Tom, thanks for all you do, and my best to you forever.
Sincerely,
Virgil Trucks
P.S. I met the famous Ty Cobb. Very nice person."
My best to you, forever, too, Virgil Trucks!
Coming Thursday: Greatest minor league response ever?