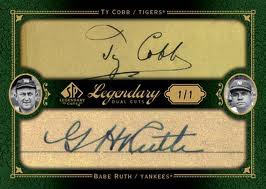 Did Upper Deck know that Cobb would
want top billing against Ruth?
I troll the Internet weekly, seeking examples of vintage baseball correspondence. I find few.
Is that because letters from baseball players aren't collectible? Hardly. I feel it stems from a truly small supply. Few letters survived.
I was tickled to see a Ty Cobb letter to a licensing agent. Cobb was concerned about the acclaim Babe Ruth received. Even after he retired from baseball, Cobb's ego still competed.
Cheers to Nate Sanders Autographs for showcasing this jewel of baseball history. Bidding had topped $3,000 the last time I checked. The moral? Letters matter. And not just for historians. Price guides may not exist for one-of-a-kind finds, but that doesn't mean hobbyists wouldn't welcome such revelations in their own collections.