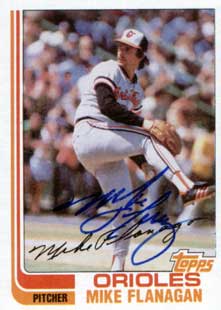 The website has great examples
of autographs: Check out
the page of the recently-deceased
hurler here:
 It's no secret that I feel one of the best websites around is Baseball Almanac.
I first wrote about this treasure trove of baseball info riches in 2010. Founder and webmaster Sean Holtz kindly provided a fun update on his 2011 discoveries. Sean writes:
"My collection has been doing great. In the past year I've grown from just below 7,000 different signed cards to my current total of 7,701. Most are new players, rookies from the past few years, but there are probably 50-75 deceased players.


My way of collecting has changed a lot over the years. Now I use eBay to buy as many certified signature cards as possible. Especially the cheap cards for less than popular players that I can get for $1 to $3 – I love them. Even if they are not in a uniform, or in a minor league uniform, or one with no markings. I also deal with two hard core collectors that share their duplicates with me. One lives in New York, the other in Chicago, both are season ticket holders so they get a lot of current players for me as well. One is like me and trying to get one card from every player possible, he lets me know when a PSA or JSA card from a deceased player appears on eBay that I don't need (which he doesn't buy first himself). I'm good with that.


Former players have sent about 8 or 9 different signatures. Family members (wives, children) probably another 5 or 6. So they are nice about helping and it still feels really nice and unexpected to receive them directly from the player or family. No others were personalized though, at least not via cards."


Autographs as free gifts? Unsolicited? Sean's good fortune comes down to one huge difference.
Some collectors write letters that say they'd appreciate that guy's signature.
Meanwhile, by Sean's ACTIONS, he shows that he appreciates said GUY.
As I suggested in an earlier post, Baseball Almanac is a great venue for getting a free, first look at an authentic autograph. Such comparisons are a great, fast help.
Another fascinating element on Baseball Almanac is Sean's growing database of salaries. Talking with strangers about sex, politics or religion is tricky. The fourth taboo subject is money. Sean feels otherwise. He says:
"The details for the salaries is courtesy of Google. Once they opened Google Books and added Baseball Digest, Ebony, countless newspapers, books, and made them all searchable it has been a huge help. I'll go there to source a quote and dig for salaries every time I upgrade a player. Many times I've found nothing. Many times I've found estimates (which I don't use) and many times I've found a lot more data than I had hoped for which I think is a great addition.


If people writing players wanted to ask they should be specific. If they simply wrote can you tell me about your contracts or something general I doubt they would get much of a response. If they asked, please tell me about your first major league contract – how did you feel, where did you sign it, do you remember how much it was for, did it include a signing bonus, were you nervous – and things like that I can almost guarantee they'd get some good responses."
I'm taking Sean's suggestions to heart. History is escaping us as retirees pass away. The irony at looking at those bargain prices from past contracts is that so many of these baseball-loving men thought ANY money was a jackpot. To be paid ANYTHING to play the game they loved? For them, a dream come true.