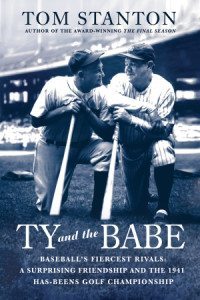 Here's a quick tip for the holiday weekend:
Baseball is a sport. Players are sportsmen. Some might define the term as "doing stuff outdoors."
Golf has strange ties to baseball. It's the top activity for someone's off day. Charity tournaments. Every former player I've tried to call (even the 80-somethings!) are often "out on the course."
The Tom Stanton book is a fun read. How could golf appeal to a superstar baseball player? The clues are all in Stanton's fine dual biography.
Sadly, some former players might have considered baseball their job. Golf was their PASSION.
Make a connection in your letter. Golf might be a perfect opportunity.