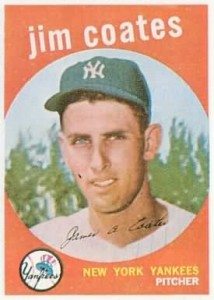 Hobby news has it that Coates
will sign for $10 per by mail.
I'll settle for the facsimile!
As first reported on the http://www.sportscollectors.net/ forum back in March, former Yankee Jim Coates replied to a collector who sent $5 for an autograph that he had received a letter from the Major League Baseball Players Alumni Association.
According to the note from Coates, the MLBPAA was discouraging members from signing random fan mail, because autographs were being re-sold on the internet.
Some collectors speculated that the MLBPAA might try this to hype interest for private signings.
I'm going to write to Coates, not for an autograph, but in hopes of acquiring a copy of the letter. I've e-mailed the MLBPAA. A staff member replied, "Are you sure it was us?"
No, I'm not sure. If anyone gets a copy of this actual letter, I'd like to know just what it says. What group is the warning from? Who signed the letter? If I learn more, I'll offer the actual accuser a chance to detail the supposed evil in our hobby.