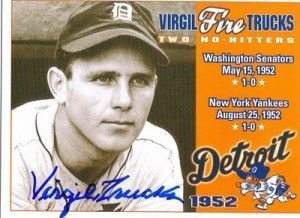 Even at age 94, Virgil Trucks strives for all-star
penmanship. This image comes courtesy of William
Regenthal and his "Foul Bunt" blog. Check out
the fine interview William did with "Fire."
Happy Memorial Day, everyone.
I wanted to salute a World War II veteran and a truly memorable person — Virgil Trucks.
Drop by tomorrow (Tuesday) for a conversation about autographs. Fans have been seeking his signature for 60 years now. Find out why he remains a hero of the hobby. Want to reward Mr. Trucks for his autograph? He tells how.