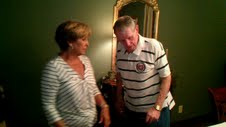 Daughter and Dad earlier
in 2012, celebrating a
95th birthday!

(Courtesy Carolyn Beckwith)
I've said it before. I'll say it again: Virgil Trucks belongs in the Autograph Collector's Hall of Fame.
This fabled pitcher has been devoted to answering letters from "fans" who weren't born when he retired. To class acts like Mister T, we all speak the same language and get the same respect.
The 95-year-old former Tiger suffered a serious fall in late July. Thanks to William at the great blog "Foul Bunt" for relaying the news to the hobby world.
Yes, this means NOT writing for a Virgil Trucks autograph for now. Holding your letters makes sense. Piles of unopened envelopes won't speed his relaxation and recuperation. The good news is that he wants to keep delighting collectors with his lightning-fast response times — once he's better.
Here's the complete update from Carolyn Beckwith, Virgil's daughter:
 
"Thank all the fans for their concern. I am sitting with him now and he said that would help because he can't answer for awhile and it is so important to him to answer his fan mail. If they would like to send a get well card send it to my address and I can bring them to him. He seems to be doing as good as he can under the circumstances. Still has his awesome sense of humor.
Thank you so much."
Please, send a "get well" card to this great baseball ambassador. Tell him thanks for his past autographs. Send your support to:
Virgil Trucks
c/o Carolyn Beckwith
55 Salser Lane
Columbiana, AL 35051
I believe in "Fire." I believe he'll sign again. All team fandom aside, this is one Tiger we all need to root for.

Coming Friday: Reviewing the book Lefty: An American Odyssey, by daughter Vernona Gomez and Lawrence Goldstone.