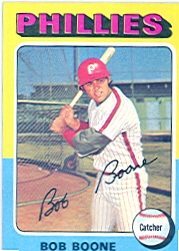 Keep chasing Boonie
before the HOF calls! If you think he's
a streaky signer now, just wait…
One of the joys of this blog is finding all-star readers. These are the gamers of the hobby, those tireless collectors who do autographs their way.
Thanks to Dan Brunetti sent a great note with an interesting possibility:
"I have enjoyed your posts this month.
My "why won't this guy sign for me?" is Bob Boone. I have gotten RTS returns from him both through the Nationals and at his home address while the rest of the world seems to be racking up successes at both addresses with one or two week turnarounds. I am chalking it up to bad timing, as I sent to the Nationals in January and to his home in California in May.
I have have a few others where I saw several cards mailed after mine show up in the success column of others while I was still waiting. Bill Lee and Bert Campaneris are two good examples."
Poor Mario Mendoza got a "line" named after his anemic batting average. Will the spot signers who vex a particular collector be assigned the pitcher's name? As in, "The guy totally Santorini-s me every time I write!"
Lastly, here's a grateful shout-out to Daniel Solzman. He shared…
"I had the chance to meet Wade Boggs
on Wednesday
when I went to the Rays-Red Sox game. He was doing a charity signing at the Ted Williams Museum prior to the game. It was $30, well more than the $5 he charges TTM but it was worth it as the money went to the Boston Strong fund as well as a military veterans fund. Now I have a photo with Wade that I am getting made into an 8×10 to get signed!
Dick Vitale was also at the game, too. He adopted the Stan Musial model of having pre-signed cards with him, He posed for a photo in the middle of the 8th inning with me. I'm also getting that made into an 8×10 and sending to ESPN for an HOF inscription."
Speaking of Stan The Man, allow me to cheer for the writing of Dan The Man. Enjoy Daniel's "Redbird Rants," including this exclusive chat with
Ozzie Smith
. Well done, fellow correspondent!
I love all the feedback. We can learn so much from each other. How's your baseball correspondence lately? Please, let me know.