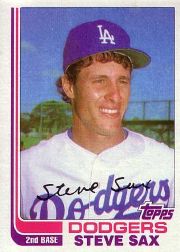 See? Short to write.
What's the problem?
Steve Sax remains a mystery to me.
He wasn't happy signing TTM for free, getting a fan mail handler in 2011 who'd help him charge per signature.
This season, has he decided the cash isn't enough? Here's the statement from his autograph brokerage:
"Unfortunately Steve is not doing any mail items at this time. He is focusing on coaching with the Diamondbacks. Maybe after the season ends so please check then. Thanks!"
Fine. People who've written six months ago haven't had their checks cashed. However, Sax has customers waiting. They are no longer admiring fans and collectors. They're people purchasing a product (an autograph) from him.
Just because the fast-food chain doesn't take our money, it's still not cool to be kept in the drive-through line forever.
There's still a large number of current coaches handling their own fan mail, signing for free. I can't understand why Sax's job or schedule is so different.
I'm mystified. Unless…
there's going to be a new autograph fee menu issued after baseball season? The prices he agreed to weren't enough to keep signing interesting, so he's decided to use the D-backs as an excuse to back out of his deal?
I hope not. Please, Mr. All-Star, prove me wrong.