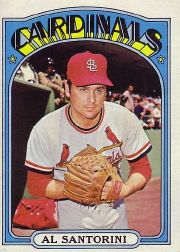 My first ever game
in St. Louis. Will I
see Bob Gibson pitch?
Nope. Spot-start Santorini.
Sigh…
It's easy to shrug off a non-return from a superstar. "Who DOES he sign for?" you ask. "Join the club."
Things are different for the supposed sure-thing autographers. Why me? Everyone BUT me!
On a recent www.sportscollectors.net forum, someone posted —
"Al Santorini Hates Me."
I couldn't avoid reading such a story. Actually, the collector was being a bit poetic in his recap. It seems he's gotten TTM toughies like Phil Niekro and Sandy Koufax. He wanted former pitcher Santorini for a special project collection — signed photos of all 1969 (first year) San Diego Padres.
Three Santorini requests. Three non-returns. The collector wrote me, saying he thought about using an alias or even a different address.
My advice?
1. Spell it out why you want his autograph. Make it clear he's special, simply because of the roster he was on. Ask him to help reach your goal. Ballplayers made the majors by setting and meeting goals.
2. Hand-print your request. Occasionally, a retired player will speak up about disliking what they think is a mass-produced letter. If your handwriting is subpar, they might appreciate your suffering even more.
I think there's nothing sinister in the failures. Santorini has signed for 83 percent (59 of 71) of collectors through the mail, says the SCN site.
Assume nothing in this crazy hobby of ours. Times change. People do, too. I'm thankful that we get more than three strikes as collectors.