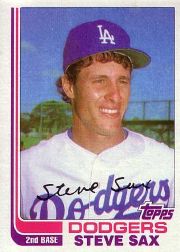 Don't like the facsimile?
The real one'll cost you!
No, this isn't an obituary.
However, hobbyists might be better off thinking that Steve Sax is dead and gone.
As search engines post their "most searched topics of 2011," the popular http://www.sportscollectors.net/ has been buzzing over "No More Free Steve Sax Autographs." This news post on the website message board brought 136 posts and nearly 3,900 views.
The "successes" section of the site noted that Sax had signed 123 of 264 recorded requests, a 46 percent success rate.
That number is bound to plummet. Sax has entered into a deal with a fan mail handler. It costs $20 for one signed card now.
Angry responses flew on the hobby website. Just one collector pointed out that, in the past year, Sax was sending solicitations with autographs, noting that he could help collectors with an investment opportunity to "expand your income base."
The man who contracted to handle Sax autograph requests said that Sax made a deal with him. Sax, despite sending out notes for collectors who want to be investment customers to contact his secretary, claimed that he was unable to handle the number of letters? Ironically, in a web search, I found that Sax has a website touting his skills as a motivational speaker.
My advice? Let Steve Sax go. Ignore the hobby dealer who's handling the mail. Spend the $20 on writing to 22 more retired players. More retirees will follow Sax's path. Write now.