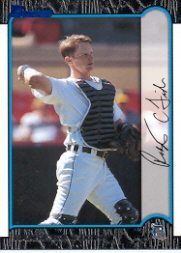 The facsimile autograph is the
closest most collectors
have been to a Fick sig.
Sometimes, collectors may never know why they didn't get an autograph reply.
Or, clues might not appear for years.
This "comeback" story about Robert Fick is a feel-good feature, for a couple of reasons.
First, it's nice to think that someone can be happy again after overcoming alcoholism.
Secondly, Fick remained one of the most consistent non-signers of the past decade.
Why didn't your letter get an answer? Hmmm…
It will be fascinating to see if four years of sobriety gives Fick a different outlook on fans and collectors.
(Thanks to Frank Barning for the Fick link. Frank, famed from his days as Baseball Hobby News, is writing a fun "Barnstorming" blog that spotlights key chapters in hobby history.)