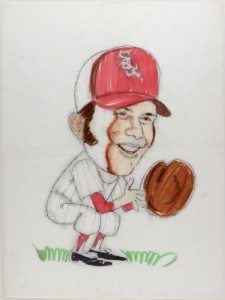 How popular was Herrmann with
the ChiSox? I found this art on
wwwmearsonlineauctions.com
this 1972. An estimated 3,000
prints were made and sold!
I wrote about Ed Herrmann, the 1970s backstop who's trying to help his injured son with medical bills, earlier this month.
I received this hopeful e-mail from the all-star catcher this morning. He wrote:
"Mike Baker shared your blog with me and your note for fans to send donations with autograph requests. It is a wonderful Christmas surprise each time I receive a donation in the mail. I can't thank you enough for sharing this information. It is a long, long road for my son Jim's recovery and every dollar is a huge help to him and his family.

Thank you again for your kindness and generosity.
Merry Christmas.

Ed "Hoggy" Herrmann"
This is the season of miracles. Even if you have his autograph, send a thank-you. Send some hope. Money is only one way of helping. Share Jim Herrmann's story with someone else.
Ed Herrmann
13153 Tobiasson Rd
Poway, CA 92064
I told Ed Herrmann, "I'm sure many people have told you what a good player you were. Let me tell you that I think you're a good Dad."
Baseball is only one way of becoming an all-star.
(Thanks to collector and SCN member Mike Baker for his aid with this story!)
Coming Thursday: Why is a membership in www.sportscollectors.net the best holiday gift a hobbyist could imagine?