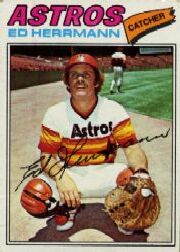 Ed has kept that trademark "H"
in his autograph.
"Yes, I collected cards along with my dad. I still have most of them. Being featured on so many cards confirms that all the work I did as a kid paid off. Of course, if it weren't for the talent and perseverance God gave me, none of it would have been possible."
In 2001, the fiery catcher sent me that memory for my book Collecting Baseball Cards: 21st Century Edition.
In 2011, life has thrown Herrmann a curve.
His son Jim suffered severe injuries in a dirt bike accident.
Herrmann has remained a faithful signer for fans over the years, never demanding a fee. Even though his son's medical bills must be daunting, Herrmann hasn't instituted a for-pay policy.
Enclosing a couple of bucks marked for son Jim, whether you're seeking an autograph or not, would salute the Christmas season. Even if sending money is tough, consider just sending a note. He's sent fans his best wishes for years. Return the favor to:
Ed Herrmann
13153 Tobiasson Rd
Poway, CA 92064
If you're sending a baseball to get signed (with a return postage-paid mailer, of course), enclose a healthy donation and ask for a "bio ball." Ask Herrmann to list his years played, his three nicknames, his first major league hit, the date he caught Larry Dierker's no-hitter — any career highlights he wants to fill the panels with. You'll get a unique treasure, along with the joy of helping fuel a comeback.
Coming Wednesday: "10 Most Wanted" — Family Edition.