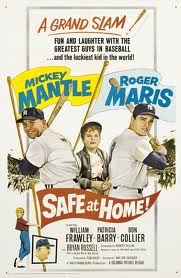 Ebay is swimming with
memorabilia from the movie.
I'd love to correspond with
surviving actors, to see
how surprised they are
about this film's revival.
Each baseball season begins and ends with cable channels having endless showings of Safe At Home.
No, this isn't another snarky review of the movie. (Even though I thought Fred Mertz would have made a better coach than actor William Frawley was…)
Instead, I took to heart the message of stars Mickey Mantle and Roger Maris.
While they told the boy that lying is wrong, I'd add, in the case of letter-writing collectors:
You don't have to.
I'm thinking of collectors who've been tempted to concoct a tale that would melt the heart of the toughest non-signer.
(I remember the tale of a reporter (no, not me) who wanted to test how celebrities responded to letters from kids. He considered publishing a book. The problem was that Senator Edward Kennedy was so moved by this "kid" correspondent that his staff invited the non-existent child to Washington, D.C.
Instead, I see a better, more honest way.
Look at the list of guys you're writing to. How do they relate to your own locale?
1. Do they (or did they) play near where you live? What about their minor league time?
2. Did they grow up (or retire) near you? Did they attend a nearby college?
I get frequent questions in replies from retirees about my Iowa town. Don't leave money (or opportunity) on the table. It's not just a business saying. Take full advantage of every chance you see. Your collection will thank you.
Coming Wednesday: Tune in for a tale of Bobby Thomson, CSI style.