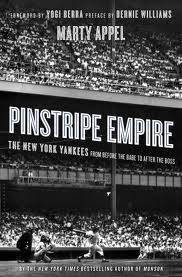 Marty Appel is more than an author. He's part of New York Yankees history.
Therefore, his masterful history of the team is a fascinating story within the story. As I devoured his new Pinstripe Empire: The New York Yankees From Before The Base to After the Boss (Bloomsbury, $28), I began to discover Appel's deep roots in the Yankee mythology.
He's restrained in not writing a "Me and Other Yankees" type book. Remember, coach Yogi Berra depended on Appel, a boy wonder team executive, for daily gossip about the team's inner workings before each game.
Readers learn that Appel's long career as the team's public relations director meant more than paychecks. He tells of a young fan in 1965 who got a letter to the editor published in The Sporting News. "Why is everyone giving up on the Yankees? They always come through in the end. They will be fine." Appel was that fan.
Appel salutes everyone in Yankees history. He unearthed a 1969 letter from a 1912 batboy (whose mother washed the team's uniforms). He writes admiringly of the unknown janitor who salvaged team files when new owners took over in the 1940s, done initially to save the autographs of famous names on endorsed checks.
Although Appel doesn't write about collecting team memorabilia, he has lots of hobby-related tidbits in his text. He writes of the Yankee Stadium box seat design, noting that curved-back seats bought by collectors after the 1973 renovation dated back to 1946.
Think that's great? Look for a two-paragraph tribute to Manny's Baseball Land. If you bought a souvenir outside the ballpark into the 1970s, chances are it originated through Manny's. On page 394, Appel notes just how cheap Yankee Stadium relics went for in the park's renovation. Got five empty Winston packs and $5.75? A box seat is yours!
Collectors will love the author's willingness to capture hobby lore. The reason Yankees fans know the faces of clubhouse man Pete Sheehy (who could forge autographs of Yankee stars when needed) and PA announcer Bob Sheppard was because Appel made sure the men were included in team photos and the yearbook.
He isn't above raising an eyebrow about team icons. When Mickey Mantle couldn't find his famed #7 jersey for Old-Timers Day, team exec Appel used some tape to alter Gene Michael's #17. Appel recounts seeing coach Frank Crosetti climb into the Yankee Stadium stands before games, seeing that concessionaires return foul balls. And, on page 382, Appel tells which Yankees player on a winter caravan tour asks him where to buy good marijuana!
No detail is too small for Appel's historic eye. He weaves decades together with invisible thread. Do you remember Seinfeld character George Costanza's front office job with the Yankees? The job wasn't as made-up as it sounded.Check out page 203. Appel knows who really held the low-level post from generations past.
Along with the yearly summaries of each season, the book tells of the demise of announcer Mel Allen. Appel shares that the announcer answered ALL of his fan mail.
When Babe Ruth visited Cooperstown for his 1939 Hall of Fame enshrinement, Appel resurrected the ideal quote from the legend besieged by signature seekers.
"I didn't know there were so many people who didn't have my autograph!"
Appel needed more than 600 pages to document all the wonders he was part of with the Yankees. This book is a noble start. He's been a student of team history all his life. Read this finely-sculpted love letter to his Bronx Bombers, and you'll be sure that all-star storyteller Appel is still a fan.

Coming Monday: Thanking a former Yankee on the comeback trail!