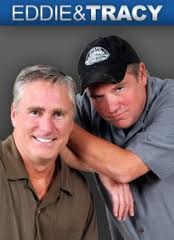 Tracy Jones (left) with
his afternoon co-host

(Photo courtesy WLW)
It never hurts to say thanks, or to write a thank-you note.
Want proof? I sent former Reds outfielder Tracy Jones a link to my previous blog post expressing amazement and gratitude over his autographed card giveaway. As a bonus, he added these comments:
"Tom,
Thanks for the awesome shout out on the blog. It's people like you that make me wanna get the cards out afterall….even if it was way late! To answer your questions…
(Q: How many people got autographed cards from your offer?)
1. i have sent out well over 300 cards
(Q: How did you get so many cards of yourself?)
2. i like to keep them in stock
(Q: Why did you go through with your plan, even when you announced you were shutting down the offer in December?)
3. awesome fans like you
have a good one and thanks again.
Tracy"
Tracy Jones sent me more than an autograph. He sent me proof that "why not?" beats "why?" for anyone wanting to have more fun in this hobby.
Coming Thursday: Meet Bruce Robinson, musical major leaguer!