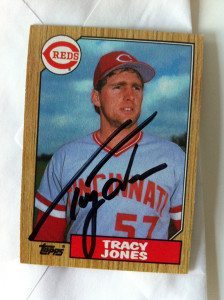 Those hopeful Reds fans at
www.omgreds.com covered the
Jones Autograph Promise
from the start. They got theirs, too!
Even this blogger saw Tracy Jones deliver in the clutch.
My mailbox had an autograph 1987 Topps Wednesday. Just like he promised to everyone who e-mailed.
What impressed me most?
No WLW advertising. A blank white envelope addressed by hand.
No worry that my address has been entered into an advertiser's database
and will be on mailing labels for eternity.
I would have understood if TJ had included a note asking for
listeners. Or, "I hope you like the card. If you can, donate to ____."
This was a pure gift. A promise fulfilled.
It's time for another e-mail from me. This was the e-mail address he shared when he first made the offer:
Thank him for the autograph. It seems that most people in the states who wrote him should have their autographed card in the next few days. Even the plentiful 1987 cards aren't free. Postage sure isn't. This gesture took plenty of time, as well as money.
Tracy came through for us. Let's look good, too. Represent the hobby well.
Coming Friday: Meet Jeff Schultz, autograph collector and firefighter.