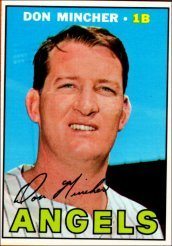 Rejoining his old team…
Slugging Don Mincher died Sunday at age 73.
How will he be remembered? There's lots of choices:
1965 A.L. champion Minnesota Twin
1969 Seattle Pilots all-star
Minor league mogul…including Huntsville Stars owner and Southern League president
I might add something else to the list: autograph admission fee pioneer.
I scoured the success board on www.sportscollectors.net. Since 2002, Mincher was charging a fee for his autograph by mail. He started out working through a broker, a fan mail clearinghouse. Soon, he was handling his own mail. A shrewd businessman, Mincher must have learned that it wasn't that tough to keep all the profit.
Reading the results more closely, I see that Mincher was willing to add notations such as "1969 Seattle Pilots." Several people, such as my friends at www.autographaddict.com, got questions answered.
I'm guessing that Mincher may have given freely to anyone buying a ticket to his Huntsville Stars. Likewise, I think he wasn't selling individual autographs as much as he was judging the sincerity of each request.
The late Phil Rizzuto was famous for doing this. The check would be returned with a "No Charge!" announcement penned by The Scooter. He'd include an extended personalized inscription (seeing how many words would fit atop a Hall of Fame plaque postcard).
Not that Mincher sent out freebies. Nevertheless, he was one of a breed of autograph signers who seemed to use the fee as a bouncer and velvet rope. The request for money lessens the fan mail load while scaring off casual collectors.
Thanks to men like Mincher, I ask two questions about signing policies: how much and WHY.