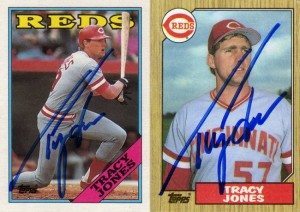 The website www.omgreds.com shared these specimens in
December, but reported on 12/15 that Jones wanted to
cancel his free autograph offer. Why did he go through with it?
By the way, this website looks like a great resource
for Reds autograph possibilities!
Tonight's menu includes crow and humble pie.
I waved the red (Cincinnati Reds?) flag back in January over concerns that Tracy Jones might be toying with the affections of WLW listeners. I didn't throw stones or call names. However, I did address that I hoped collectors wouldn't be teased with empty promises.
Jeff Schultz reported on www.sportscollectors.net that he may be the first to find that the former outfielder came through on his promise for a postage-paid autographed card to anyone who e-mailed. Thanks to Jeff, who scored a signed 1987 Topps.
There could be good news at your door soon, too. It may not be that Publisher's Clearinghouse guy with the balloons and the giant cardboard check. I'll take TJ as my consolation prize.
People who keep their word get my applause. There's a new reason for wanting a Tracy Jones autograph!
Coming Wednesday: What did the late Don Mincher teach us?