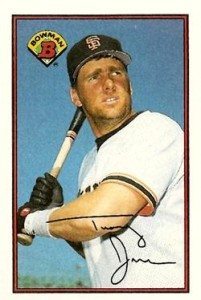 Free, authentic autographs?
Some WLW listeners claim
he made the same offer a year ago
and never delivered. Hmm…
Tracy Who?
I blurted those words as I looked at my e-mail inbox today.
However, I'm not going to disregard any possibility in this hobby.
Supposedly, Tracy Jones responded to my Jan. e-mail. I answered his on-air offer to send an autographed card, postage paid, to any listener.
The only difference was that I included a link to my Jan. 3 column about his offer. The subject line for my e-mail was entitled "Autographed cards? Really?"
No, I'm not the only one. I saw a copy of the e-mail received from another collector. Our messages were different.
Both notes do begin with "Sorry for the delay" and say that signed cards will be mailed out this month.
As Tracy himself might say —
Stay tuned!
Coming Friday: Learn the inside story of "The Autograph Card."