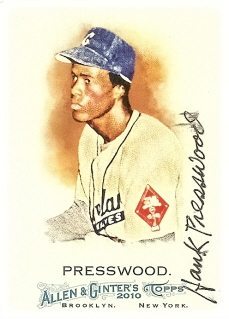 Gary witnessed the
first-ever signed cards!
He's not black. He's never played baseball. But Gary Crawford has been one of the best teammates a Negro Leaguer could ever imagine.
Five years ago, Gary founded http://www.negroleaguelegends.org/. He assists in booking player appearances and routing fan mail. He keeps the website active, adding touches such as photos of the home and office of Dr. J.B. Martin, owner of the Chicago American Giants.
His first contact with the world of Negro Leaguers came when he encountered Johnny "Lefty" Washington.
Gary was helping produce the March of Dimes Sports Awards Ceremony. Washington told Gary about how former players would travel together to events.
"He never mentioned Chicago," Gary said. "I asked why. Johnny told me, 'Nobody ever organized it right.' That's when I asked, 'What can I do?'
Gary rents the P.O. Box as a clearinghouse for fan mail, when collectors write in for autographs via donations as indicated on the website.
"I hand them the mail, whether at an appearance or going to see them," Gary explained. "I'm standing there when they read it." His involvement often gets an immediate response to letters, as the retirees are pleased to see money included.
Previously, he saw that some overwhelmed Negro Leaguers would be storing their mail in boxes. "They intended to sign it," he said. "They could have been throwing it out. The website offers a way to help the player and the collector. If a guy is ill or doesn't want to sign for anyone, I'll see the items get returned." Likewise, when someone buys an autographed photo or other item through the website, Gary sees that the player gets the royalties.
Gary is a selfless booster of the Negro Leaguers. He sounded like a proud parent telling of the time when he went with Hank Presswood to a Denny's. They chose the place where his friend Presswood autographed 100 Allen & Ginter inserts for a Topps representative. According to Gary, Presswood was so excited he didn't realize until they were on the ride home that he never asked for a card for himself to show his wife. Gary called the company to get Presswood his own A&G cards.
Finding the right items for autograph collectors is one mission Gary continues. Seeking vintage photos to reproduce or creating appropriately-themed items to sign is key to pleasing fans and the Negro Leaguers.
Along with purchasing autographs of Negro Leaguers, knowing that profits will go directly to the families, the website helps book former players for appearances. Gary was proud to tell of getting a Negro Leaguer to an elementary school classroom less than a week after the teacher called.
"I try to get them out there," he says. "They can keep their own legacy alive.
Just don't call Gary an agent or promoter.
"They're friends of mine. The fellas," Gary explained. "I thank God for them."
For more information, write to Gary at info@negroleaguelegends.org.