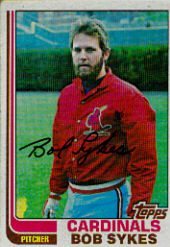 Sykes has toned down
his "S," but has the
same autograph today.
Welcome to Update Day!
For starters, I received three consolation prizes in my mailbox in the last week. Two pitchers and an outfielder were good for autographs only, not acknowledging questions I included.
Bob Sykes signed my letter, then included an autographed printout of his favorite Bible verse (Phil. 4:13).
Fellow hurler John Costello sent me an autographed Upper Deck card.
Brewer and Astro outfielder Wilbur Howard penned his flamboyant signature on my letter.
Each answered. That's promising. I'm not suggesting the trio would never answer any questions. The only thing I learned is that I asked the wrong questions at the wrong time.
********
Thanks to all of you who sent positive feedback about my conversation with 1953 Yankee Steve Kraly.
Collector Andrew Scott sent scans of what he created for Kraly. Impressive! Check them out: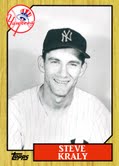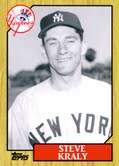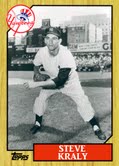 As more current and former players fear blank index cards, customs are a great alternative. Make your own collectible. Or, make friends with artistic hobbyists like Andrew.
********
Lastly, there's hope for Cubs fans who haven't gotten their copies of Ron Santo: A Perfect 10 yet. Did you miss my review? Here it is from June 17.
The nearest Iowa Walgreens store had copies on the counter, discounted from $24.95 to $14.95. I've heard that Jewel Foods has been carrying them at a sale price, too. It's a book worth owning — and sharing!
Coming Wednesday: Teammate Joe Gibbon remembers Roberto Clemente.