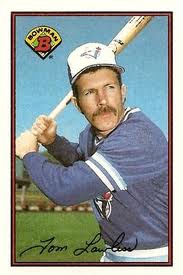 The only difference between
this 1989 facsimile and my
autograph was Tom's "T."
His current sig almost
looks like "Pom."
Tom Lawless gave me quite an answer.
He didn't respond to any of my questions. Of course, I wanted to know about his bat-flipping homer celebration in the 1987 World Series.
Instead, I got a joyful summation of his seesaw career. After signing my letter and adding his #12, Lawless printed:

"Playing ML Baseball is a Blast!"
Did you miss Lawless sparkling for St. Louis in the 1987 Fall Classic? Here's an epic description of the game, written by acclaimed journalist Thomas Boswell.
Coming Thursday: A review of Shawn Green's "The Way of Baseball."