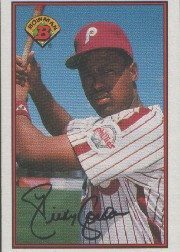 Same sweeping "R" and "J."
Don't expect to see the "y"
in current autographs…
I didn't get a lot from Ricky Jordan. However, the former Phillie did one notable thing:
He autographed the letter 'Rick Jordan.'
Imagine being told in middle school, "The name you choose right now will follow you the rest of your life."
It's that way in the majors.
I asked Jordan about his debut for the Phils, July 17, 1988. Thanks to http://www.retrosheet.org/, I discovered that the premiere featured his first home run in his first game.
Q: Did any friends or family attend the game?
A: YES, father and mother.
Q: Did you get the ball as a souvenir?
A: Yes.
Did I miss one burning question that baseball historians haven't attempted? How does someone born Paul Scott Jordan get the nickname of "Ricky?"