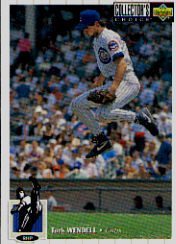 An unheralded storyteller!
Wendell could be our
next BOB UECKER!
I just got an early Christmas present from former pitcher Turk Wendell.
I asked him about the best advice he ever received from a catcher on the mound.
He gave me something better. Before he penned his first sentence completed, I knew he had shared a baseball classic, something worthy of a Seinfeld episode, or a Bull Durham sequel. Wendell wrote:
"Best advice on the mound —

Mike Piazza would always say the same 1 of 2 things when I came into a game. It usually was a crucial point in the game, men on base, close score, and a power hitter up to bat.

I would always ask him, 'Okay, Mike, how we going after this guy?"

His response…

A) 'Let me think about it on the walk back' or

B) 'Just go after him with your good shit!'

I always wanted to say, 'No, I'll just half-ass this one and see what happens!' But never did!

Coming Tuesday: Turk Wendell's serious side.