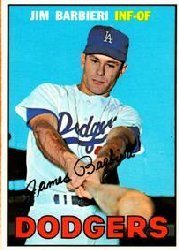 One of the all-time great
baseball card poses!
A dozen Rookies of the Year.
Even into the 1990s, it seemed that coming up with the Los Angeles Dodgers seemed to guarantee career prosperity.
But not every wearer of Dodger blue was granted such an opportunity for success.
I went back to 1960, when Frank Howard became the first Dodger ROY winner. Who were the L.A. cup-of-coffee candidates from that decade, those who never found the same spotlight?
My latest letters are to:
Jim Barbieri
Dick Calmus
Roy Gleason
Jim Golden
Derrell Griffith
Tim Harkness
Dick Nen
Bart Shirley
Hector Valle
Carl Warwick