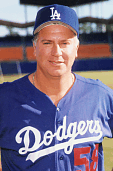 Los Angeles Dodgers fans marvel at the years served by Bill Russell. Another overlooked team fixture during those many glory years was Mark Cresse.
Cresse served as bullpen coach for 22 seasons. A third-round draftee by the Cardinals in 1971, he went on to found the Mark Cresse School of Baseball.
I wrote to find out his views about Dodger Stadium, bullpen misadventures and his overlooked talent.
What did he remember most about Dodger Stadium? Interestingly, Cresse recalled the people before the sights:
"I enjoyed daily talks with the season ticket holders near me in the bullpen. I was always amazed with the passion they had for the Dodgers!"
What's the craziest thing Cresse ever witnessed by relievers trying to amuse themselves?
"I promised Jesse Orosco that if we were ever ahead by 15 runs in a game, he could bring his stereo down to the bullpen. Sure enough, it happened and here came his giant stereo playing the Rolling Stones' Satisfaction."
During his years with the Dodgers, Cresse gained secondary fame as a baseball woodworker. He made lamps out of broken bats. Did any famous names ever collect his work?
"The best bat lamp I ever made was an eight-bat lamp that I made for Roy Campanella. He gave me eight bats from his last team in Brooklyn and I made him a cool table lamp."
Coming Monday: Givings, and misgivings, by collectors at Christmas.