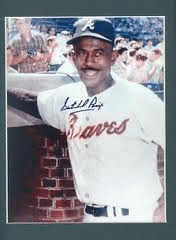 Although this pose
of Paige as a Brave
seems halfway
common on eBay,
his history in Atlanta
is more obscure.
Here's a great account
by Larry Tye.
Jack Damaska personified the AAAA player of the 1960s.
He remained a notch above most AAA talent. Still, Damaska wasn't getting another chance at the majors.
Nonetheless, his skills may have shined brightest in the 1965 International League All-Star Game.
Years ago, minor league all-stars would get an exhibition against a major league team.
The minor leaguers topped the Milwaukee Braves, thanks to three hits, two RBI and a home run by Damaska.
He earned each hit, battling future Hall of Famer Phil Niekro.
Damaska recalled:
"Thanks for remembering my game in the International League All-Star game against Milwaukee. I just wanted to prove that I could play with them. (But never got the chance.)
Hitting the knuckleball, I just tried to hit up the middle and keep from striking out."
That wouldn't be the last HOFer Damaska faced. He concluded his letter with this historical footnote:
"Last player to get hit off Satchel Paige in his career. 1969 Spring Training against Atlanta Braves, Savannah, Georgia."