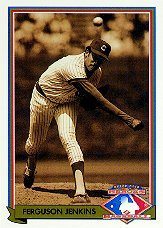 Dear Fergie,
I've written you twice before, the last being my blog post on Sept. 26.
I just received word from Doug Gladstone, author of A Bitter Cup of Coffee. He's gone to bat for the 874 "gap" players, those playing between 1947-79, shunned for pensions and health insurance simply because they played less than four seasons. All who came later hit the jackpot with just a day on a major league roster.
Doug has posted an update on your willingness to help your baseball brethren. He blew the whistle on Dan Foster, the big cheese of the MLB Players Association. Supposedly, the director called you to ask for your silence?
What did you do with such guys during your career, Fergie? Those who hung over the plate, crowding you?
You never backed down. You answered with chin music, dusting the dudes off.
Reclaim the inside part of the plate. Flex your Hall of Fame muscle. Please, make baseball history AGAIN. Speak out, for those who have no voice.
Still your fan,
Tom