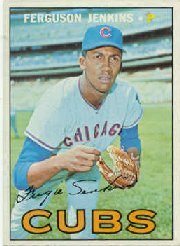 Dear Fergie Jenkins:
I forgave you twice. In 1972, I sent you a Topps card and a SASE c/o the Cubs. No go. When P. K. Wrigley banished you to Texas, I sent a letter of support, along with one more card and a SASE. I wound up with a postcard of you as a Ranger, complete with a preprint facsimile signature.
I know you've had an autograph pricelist for more than a decade. Sorry, but $25 is a bit much for me these days.
Please, don't disappoint me a third time. I cheered when I read news of your possible pitch for justice from author Doug Gladstone. Gladstone is the author of the courageous A Bitter Cup of Coffee, the book that tells how MLB and the Players Association froze 874 former players out of pension eligibility.
You top my list of heroic Hall of Famers. Your dedication to charity has been inspiring. The first African-Canadian member of the Hall, you are an eternal league leader. Your voice can turn heads and open hearts. Better than that "when E.F. Hutton talks, everybody listens" commercial. You are not a mop-up reliever. You are a STARTER. Start a new chapter in baseball history.
I've been writing a letter a day for seven months. I'm collecting stories from baseball retirees. Those responses have taught me that men who were benched, overlooked and mistreated still love this game. Good letters make a difference. I feel like I'm saving endangered stories from baseball's past. Your letter will matter to the 874 who would feel a pension acknowledges their existence.
Make you a deal. I've read your fine biography. I believed every page. I'm telling everyone to buy Fergie: My Life from the Cubs to Cooperstown.
More royalties for you. But that means more fans are buying your reputation for fearlessness.
Please, don't back down now. Reverse one of baseball's saddest hours of the last 30 years. All it takes is one letter. One more autograph. No one will take away your Cooperstown enshrinement. In fact, I think the 874 might go in on a second plaque for you.
Still your fan,
Tom Owens