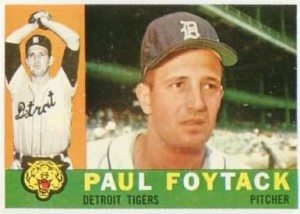 It's nice to be remembered. Imagine a fictional character including you in his plot!
I just rewatched Peggy Sue Got Married on DVD last week.
Still fun! Do you recall the party scene in which the guys are discussing the 1960 baseball season? I remember the Nicholas Cage character decreed that the Detroit Tigers had four likely 20-game winners, Jim Bunning, Don Mossi, Frank Lary and Paul Foytack.
I asked this and two other questions for Foytack:
"I saw the movie and was very surprised to hear our names mentioned."

During Foytack's stint in California, he became a horse racing fan. Speaking of movies, he became acquainted with a fellow follower of the horses — one Fred Astaire.
"The only place that I ever saw Fred Astaire was at the races. We never talked about baseball. He never came to a game."

Too bad. I imagined Mister Astaire's rhythm making him a natural shortstop.
Lastly, I had to praise Foytack on his 82 career hits. (Take that, DH rule!) One of those hits was a home run, socked off Don Larsen in front of hometown Detroit fans. Thanks to http://www.retrosheet.org/, we can relive Foytack's moment of long-ball glory.
"I remember hitting the home run and one or two innings later, Minnie Minoso hit one off of me to win the game for Chicago. My teammates gave me the silent treatment after I hit my homer.

I always dreamed of being a major league pitcher and got my wish. I met a lot of great people and played against some great players. I knew when it was time for me to quit and go on with my life."
Foytack hasn't been forgotten. The New York Times profiled him in 2007 for his thoughts on current baseball doings.