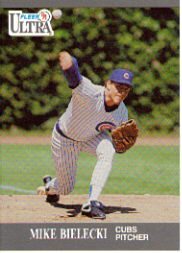 When I heard former pitcher Mike Bielecki singing "Take Me Out to the Ballgame" at a 2010 Cubs game, I wondered what he thought of broadcaster Harry Caray. I asked him about Harry, a great day against the Pirates and the benefits of appearing on baseball cards. He wrote:
"Harry was a great man, Cub fan and baseball fan. he many times would come to the back of the plane and have a drink and B.S. with the players. Loved to talk Cubs and baseball!"

Remembering April 13, 1991 — in front of the Wrigley Field faithful, former Pirate Bielecki beat his old team. He helped his own cause with four RBI. (Thanks, http://www.retrosheet.org/.) Bielecki noted:
"I remember the 4 RBI game because it was my first start of the season that year. I was a terrible hitter in my career."

I've counted 48 different Bielecki cards. I'm sure there's more. He explained that appearing on cards pays in a different way.
"We didn't get paid per card. Companies that print cards, shirts, games, etc., have to pay Major League Baseball a licensing fee for using their trademarks and it gets divided evenly among the active Major League players for that year. Money is also saved for strike funds and fees for every time the owners and union need to negotiate a new Basic Agreement contract!"