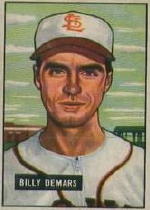 Billy DeMars was a marvel. A talented batting coach long before the advent of videotape and other technological boosts, DeMars had a fan in Pete Rose. They worked together in Philadelphia, Montreal and Cincinnati. DeMars wrote:
"Pete would have been a very good manager. All he needed was more experience."

DeMars began his 13-year association with the Phillies at the 1968 World Series. He recalled:
"I was at the World Series in Detroit in 1968 and ran into Paul Owens and John Quinn from the Phillies. As I was leaving, I told Paul Owens who I knew that if they ever needed a good person to let me know. A month later, they called and offered me a coaching job. I spent 13 yrs with the Phillies, 3 with Montreal Expos and 3 with Cin Reds."

During his service with the Phillies, DeMars remembers one crowning glory named Larry Bowa:
"I was very pleased at what I did for Larry Bowa. He only hit one year left-handed in the minors before coming up to the Phillies. He was a very poor hitter and not much power. But we worked hard almost 365 days a year and it turned out he hit about .265 lifetime. Had 2,191 hits, 25 less than Joe DiMaggio. that's more hits than 6 shortstops in the Hall of Fame, and he had one of the highest fielding averages lifetime of any shortstop that played the game."
How does DeMars sum up his half century-plus in baseball?
"Baseball was my lifetime, 58 years. Every job has its ups and downs, but I still can't see me doing anything else. It was a great ride."