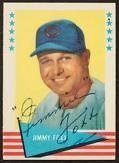 A League Of Their Own was a movie. JUST a movie.
The 1992 movie introduced unknowing baseball fans to the All-American Girls Professional Baseball League.
But a fact-based retelling? Magazines were quick to look for real-life equivalents for all characters.
The Tom Hanks character? A down-and-out former player who hit more than 500 home runs, but drank too much, only to get one last chance as a manager?
Well, Hall of Famer Jimmie Foxx managed the Fort Wayne Daisies in 1952. He hit 534 homers. Maybe…?
Try asking a real AAGPBL player about the real-life skipper.
"Jimmie was a very nice and caring person. He was okay as a manager, but since I was only 15, I had few managers to which I could compare him. I learned the most about baseball from his successor, Bill Allington."
In other words, there's history and Hollywood. Seldom, the two will meet.
Dolly was elected to the Milwaukee Brewers Hall of Fame in 2005. She's been a star in keeping AAGPBL history alive. A tip of the cap to her!