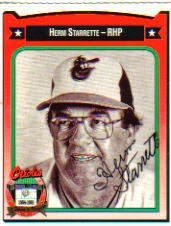 Some think of Herm Starrette as a 1960s Orioles pitcher. Others recall him as the pitching coach for the 1980 World Champion Philadelphia Phillies.
I think of him as a fighter.
Now, he's asking for a donation per autograph: $5 minimum for cards and $10 to sign a baseball.
Yes, the money will help offset his mounting medical bills.
According to address list specialist
Harvey Meiselman
, Starrette has a 97 percent response rate. This is NOT a case of a never-signing-before name saying he'd reconsider autographs if money was added.
If you've gotten Starrette to sign before, drop him a note of encouragement. And, while he hasn't issued a plea for extras, I know that he's passed out autographed cards to medical staff during his many doctor visits.
Starrette has been giving for years. He seems entitled to ask for support versus his biggest foe yet. Let's keep him in the game.