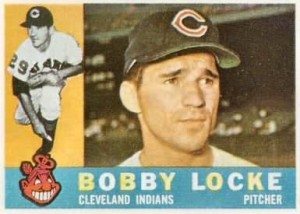 If there's a sure thing TTM, it's this fine righty!
Pitcher Bobby Locke doesn't disappoint.
He's a fast, dependable signer. According to www.sportscollectors.net, most replies come in 2 weeks or less. And, how many retirees send thank-you notes when you enclose an extra of a custom or a duplicate Topps card?
Locke homered in his 1959 debut against the Red Sox. Imagine the visiting team's pitcher, in his first ever game, smashing one over the Green Monster!
That nugget and more came from a tribute to Locke, honored for his high school sports stardom.
For me, I wanted to know most about 1964. He spent part of that season with the ill-fated Phillies, the can't-miss team who did.
How did the pennant escape the Phils?
"Manager did not use the pitchers as he should have," Locke wrote. "Some pitched with two days rest."
The former hurler closed with "Tom! Wishing You My Very Best."
Back at you, Mr. Locke. I'm sure he'd do the same for you.