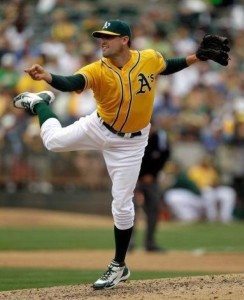 Give this collector an "A's" for effort!
The
New York Times
offered an awesome tribute to hobby ambassador Pat Neshek last week.
Tyler Kepner is one of my favorite baseball journalists. However, he didn't address two questions:
1. How many players would send a clubhouse attendant to ask for someone else's autograph?
2. How many current players wouldn't confess to collecting autographs?
I hope everyone reads the whole feature. In the final paragraph awaits a surprise.
One autograph reply could have changed Neshek's career!
In college, he wrote Virgil Trucks. All Pat got in return was a FOUR-PAGE letter offering advice to a young pitcher. It seems that "Fire" was a double inspiration…on the mound, and as someone who demonstrated how to sign autographs with style and grace.