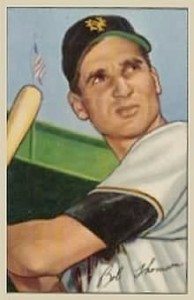 He liked knowing where his
signature would wind up.
Another baseball season is here. Hurray!
Here's one tip for any level of collector:
Say WHY you want a response, be it an autograph or an answer to your question.
Current and former players know how goals work. After all, how have they succeeded in baseball?
Your letter stands apart if the recipient knows that you're working toward a signed set or an autograph from every member of that pennant-winning team.
Also, it helps quiet the paranoia that we're all getting rich on eBay peddling all these signatures.
Seriously, a few decades ago, Bobby Thomson was the first of many retirees to add a "Good luck with your collection!" sentiment. Try revealing a bit of your hobby game plan in your next letters. It works!