Cancer claimed Grady Hatton Thursday at age 90.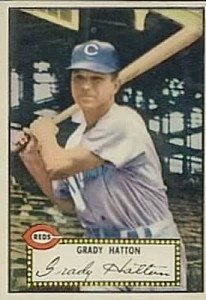 A crisp sig, until the end!
Hatton was a sure-thing signer. He added "1952 All-Star" on request.
Questions were questionable, however.
All I got was a crisp autograph when I wrote. The questions were ignored.
Reviewing the archives of www.sportscollectors.net, I saw that I wasn't alone.
In 2004, Hatton wrote to one collector that he'd get in trouble with players if he answered questions.
I met Hank Bauer at a 1980s card show. A bubbly Boog Powell loved chatting with him at an after-hours reception for card dealers.
Powell would tell anyone anything. Bauer was more careful.
"We had a sign on the clubhouse wall," Bauer said. 'What happens here stays here.'"
Before the Las Vegas rules. You know, what happens in Vegas…
No more worries about keeping confidences, Grady. Thanks for the signature.