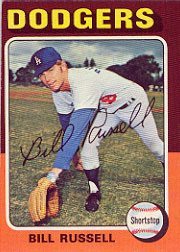 "Ropes" — a nickname, or
what collectors are on,
after Russell's recent
fan mail reaction.
Bill Russell, the Dodgers institution, may not be long for the free-signing world.
Thanks to Baseball Address List author Harvey Meiselman, here's the latest from the long-time shortstop:
"This is the only piece of memorabilia that I will sign for you. Please DO NOT send any more items to this address. They will not be signed or returned.
Thank you for your cooperation.
Bill Russell"
He's signing one-only FOR NOW at his home address.
His response times are growing to months. Once, according to www.sportscollectors.net, he was a sure thing for multiples. Russell's grand total, even with his toughened stance, is still 370 out of 400 recorded TTM contacts.
I wouldn't wait writing to Russell. If you do, don't send more than one card. I predict dark clouds ahead that will cause him to be a fee signer or another RTS man.