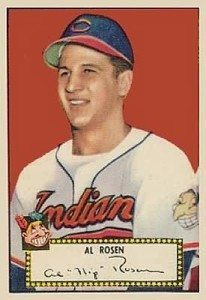 Rosen has retained that
crisp, tight autograph!
Here's a bit of "breaking news" from filmmaker Marcia Jarmel at PatchWorks Films.
"I saw your blogpost and thought you might be interested in our current film project (Got Balz?), which tells a different kind of baseball story: http://kck.st/gotbalz. I thought some of your readers might be interested in the Hebrew Hammer "Al Rosen" signed baseballs we are giving to the project's backers."
There's much more than Rosen baseballs available. Jarmel and partner Ken Schneider have great autographs and other baseball memorabilia available to those who'll help make their film into a reality.
Check out their www.kickstarter.org page. Their funding deadline is Wednesday. When I wrote this, they were less than $800 away from reaching their goal (with just 23 hours remaining). A documentary film about a 13-year-old American wanting to help Cubans get needed baseball equipment? I'm in! I hope you might be, too. Every dollar matters.